CNET

I'm extremely impressed. Rocky works really well. Overall. It's able to handle pretty much every surface in my home, including some large bumps where the flooring changes between rooms, the camera automatically switches to night mode when needed, making it easy to see in any lighting conditions. And the speaker is clear enough for Luna to understand commands. Even if it took her a little time to figure out you can also use the Rocky app to take stills and record 32nd clips. ---- Logan Moy
Automatic Feeder
Rocki holds fifteen servings of treats to be dispersed on demand. The treats go through the toss chamber and lands one to two feet in front of Rocki. Feed pets on demand through the Rocki app. Reward for good behavior.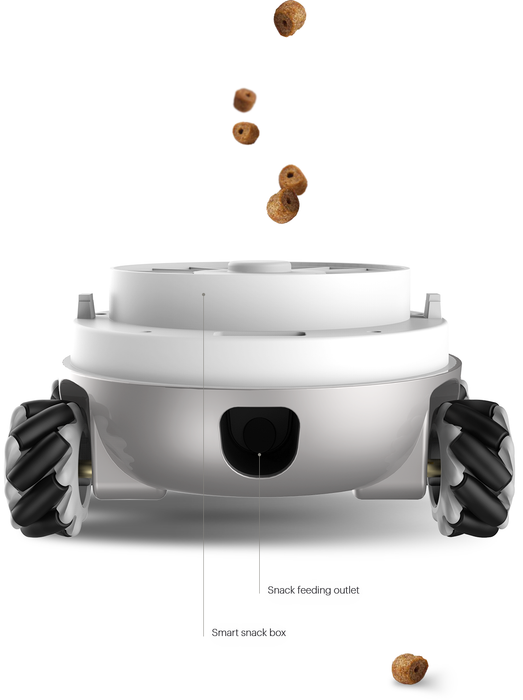 Rocki App
Inter act with pets remotely through the app. Check on them once a while, whether on a business trip, vacation, or simply at work.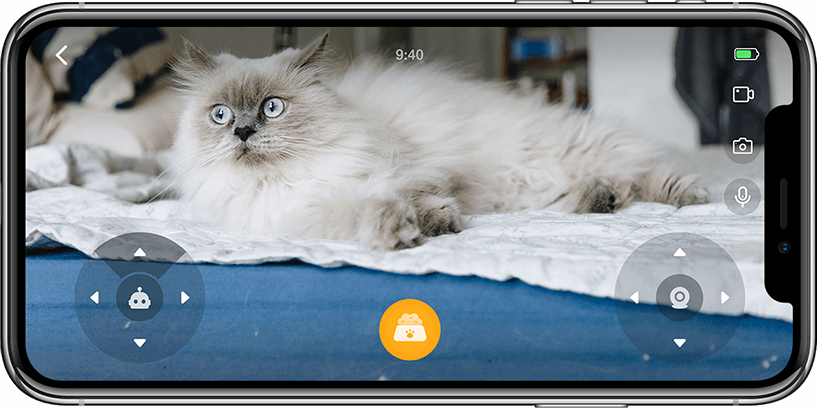 3-in-1 pet companion
Pet feeder, pet camera, and pet toy all rolled into one package.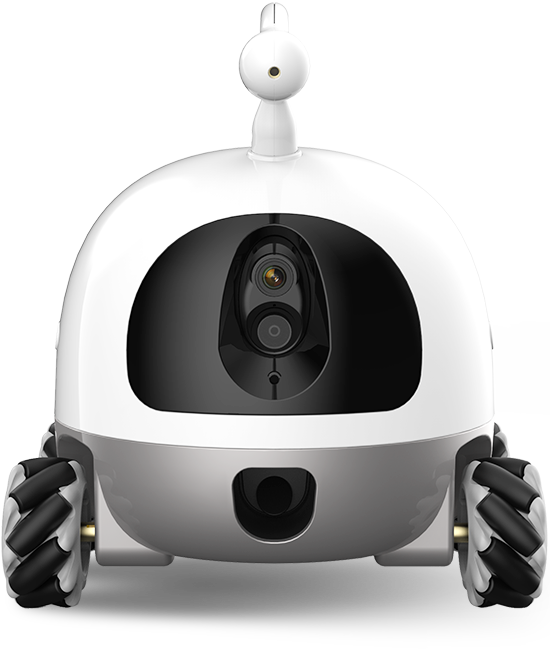 Mecanum Wheel

AWD for robots. Rocki can point turn or move in any direction without turning. The mobility is one of a kind for robots. 

Automatic Feeder

Give treats through the Rocki app. The fifteen-chamber snack holder a good amount of food or snack for a while. 

Long Operating Time

Rocki is designed to operate for several days or a week without recharging. The stand-by mode can run for one month. 

Robotic Toy Arm

Mount different types of toy on the arm. Default toy for the switchable arm is a laser. 
Testimonials
It's a cute little robot in which you can interact and check on your pets while you're away. You can toss treats, speak to them through the microphone, and move a laser around... which if you've watched the video... Dany REALLY likes that surprisingly more than Minnie lol I believe you can also switch out the laser for a feather if you want that option instead. The wheels are bit loud, but they work really well. It moves pretty easily on hardwood to carpet with no issues. The camera quality is very good, and I wasn't able to capture it in the video but you can also hear the pets and whatever else is going on in your home through the microphone. Moving around is pretty easy and no limitations there. The app is convenient and easy to install. We also noticed that charge seems to last a while. After charging it the initial day, it's been a few days and still moving around with ease. We haven't had to recharge it since. Overall, we really liked the product! I've been using it each day while I'm at work to check on the pets.
The treat dispensing, laser light, omni wheel, camera control robot for your pet! With its cute design and interchangeable parts, it is truly a unique robot of its own!
The Rocki Robot Companion for pets is a rolling, turning, treat-tossing, laser-pointing machine that allows you to stay connected with your cat when you're away from home.
You have seen other products that do similar things like pet cams ... laser point. What they do not do is move. The ability to move is helpful to people with cats in a couple of ways. One is search around the house and find where they are. And two, it really ads to the experience playing with the robot.
Rocki is offering a variety of features I haven't seen in any other products.
We got this cute pet robot from Rocki Robot.
Toby & Mika love the laser dot.
Our kitties love it, especially when it gives treats 😁
A perfect and fun toy for my Olive.
Rocki is a super fun robot for Butters.
Our Silent Dog starts talking to Robot.
Frankie and Theo approved!!
Donut was too busy with his all new Rocki companion. Get yours.
One of my friends wanted to try out my Rockirobot before purchasing it. He thought his massive (but gorgeous) Golden Lab, Mitsy, would chew it to bits. Mitsy (the Lab) was a little rough on poor ole Rocki — but even the tires survived just fine. My friend had to yell "no" a couple of times through the speaker and reward Misty through the automatic feeder for better compliance — but the point here is — you CAN communicate. Robot and Mitsy became fast friends after their trial run.
Cats meeting Rocki for the first time
Rocki playing with Potatos
Rocki Companion for pets review